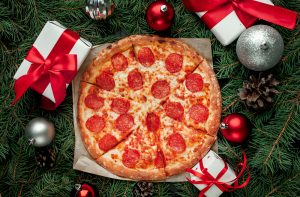 Posted

23rd December 2022

in News, Pizza
The holidays are here and everyone is getting excited to make special occasions, such as Christmas pizza. However, many people need help to come up with creative ideas for their festive pizza, especially for the first time. But no worries, for those not new to pizza making, there is nothing more exciting than trying out new and challenging recipes that will bring your recipes to a whole new level. If you are going for a traditional Christmas theme, then pizza is the perfect choice for elevating it to another level.
Creative ideas for a festive pizza
Many pizza vendors are cashing in over the festive period by introducing specialist pizzas limited to the Christmas period. Here are just a few on offer
Weatherspoons Christmas Pizza
If you love seasonal food and have never tried a Christmas pizza, Weatherspoons Christmas pizza is a fantastic choice for your first time. It has turkey, sage and onion stuffing baked atop a base of white sauce and mozzarella cheese. There are also cranberry compote and bacon bits to add some crunchiness to the texture of this festive Christmas pizza.
Domino's Christmas Pizza
If you love traditional Christmas cookies such as Chocolate organe, then Domino's offer a full Christmas range which includes the Domino's Christmas pizza. A festive Christmas pizza with a white sauce base, sausage, bacon, mozzarella cheese, and turkey breast in special barbecue sauce topped with stuffing and cranberry sauce. 
Christmas pizza bundle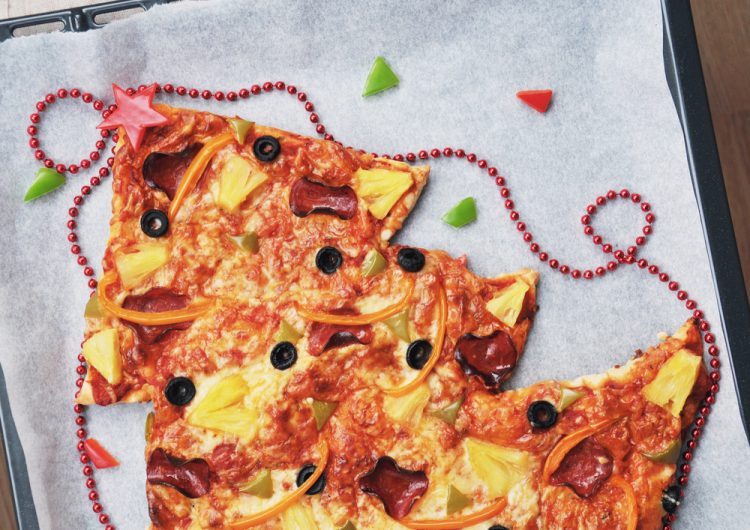 If you have never tried making pizza, this Christmas is the right time to try it out with a Christmas pizza bundle. It is a special Christmas pizza with delicious roasted turkey, cranberry sauce, pepperoni, mushrooms and melted cheese.
Of course if you wanted to consider a festive themed pizza night then why not look to Hot Stones Pizzas and our excellent stone baked pizza catering services across the East Midlands? Customise your menu and have them hot and fresh out the oven for your social event, and of course remember that Pizza is not just for Christmas, we're on hand all year round to serve delicious pizzas at your next event, so why not get in touch?
Pass The Pizza – Why some families are ditching traditional Christmas meals for a Christmas pizza.
Nothing is more exciting than eating a tasty Christmas pizza with the whole family. However, with the hustle and bustle of holiday shopping and other family-related activities, families never have time to make an ordinary holiday meal like they used to. But thanks to a new trend of eating a Christmas pizza, families can enjoy their time together even more during their holiday season.
For those considering to frozen pizza, there is nothing more exciting than eating one. However, while buying a frozen pizza will be easy and cheap, it will not be as good as a homemade one because they are not baked in an oven.