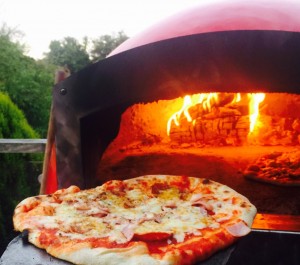 Posted

13th May 2016

in News, Pizza, Weddings
Events in which pizza catering is suitable for
Pizza is no longer a food just for the children's birthday party. Today's artisan doughs and gourmet ingredients have turned this classic Italian pie into a culinary delight. This has resulted in the new trend of serving pizza for everything from the smallest intimate gathering to large opulent celebrations. Modern pizza catering not only offers a delicious array of foods for your guests, but it can alleviate much of the stress involved with serving large groups of people. The following are an example of the many places where pizza catering would be most suitable.
Corporate Functions
Most people love pizza. This makes it the ideal food when serving a variety of guests at a corporate function. These events allow business people to meet each other and share thoughts and ideas. The catering should add to the event, not to be a distraction. Pizza catering can be done in a table service fashion where large sharing platters are brought to the individual tables. This allows everyone to continue their discussions without having to get up to get their food. A wait staff can further relieve the host's stress by setting up the tables and serving drinks.
Weddings
Weddings truly are a grand celebration, and pizza fits in perfectly. One shouldn't worry that they are sacrificing elegance when choosing this carefree fare. Pizza catering services can turn the typical pie into a gourmet meal. Garlic breads, antipasti, or the like can be served as a starter, followed by a delicious salad. Pizza becomes the main entrée with fresh produce and the finest meats as toppings. The evening can be finished with a round of dessert, and what better sweet than your wedding cake. Best of all, pizza is a food every age of guest will enjoy and feel comfortable eating, see our wedding catering services for more information on how pizza can help you on your big day.
Parties and Celebrations
Anniversaries, graduations, and birthdays are all good cause for celebration. We often throw parties in honor of these events, and pizza catering is a good place to begin the planning. Rare ingredients and complex combinations of the toppings will allow you to create pizza dishes that are as individual as the guest of honor. All food can be served buffet style, both indoors or out, for a country, shabby chic feel. Often times the catering service can create the foods right in front of the guests which adds to the fun of the party.