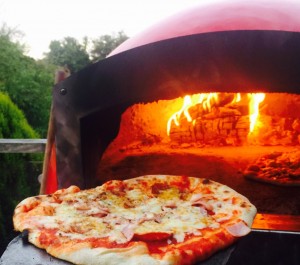 Posted

17th March 2016

in News, Pizza, Weddings
Your wedding day is supposed to be about the everlasting love between you and your significant other, right?
WRONG!
Ask any married couple about their wedding – they'll wax nostalgic for a moment and then likely tell you that other than when the bride was literally walking down the aisle, the focus was on everyone else in attendance. They were busy making sure that uncle Steve didn't sit next to his cousin Mary (she borrowed twenty quid in the late 1970s and never paid him back), one of the kids threw up, grandma's missing, and so on.
So how do you keep all of these people happy? The only answer is this: food. A well-fed wedding guest is a calm, respectful wedding guest. Choosing the right wedding catering is crucial not only to everyone else's enjoyment, but for that of the bride and groom as well.
For a unique, memorable, and delicious catering solution, consider hiring out stone baked pizza caterers.
Why Stone Baked Pizza Ovens are Perfect for Weddings
If you've never had stone baked pizza before, you're missing out on one of the best ways to enjoy the universally loved dish. Stone baked pizzas can be prepared quickly, yet tend to have a "gourmet" quality about them. Too many couples get a little too fancy with their catering solutions at their wedding, which is disastrous if any of the guests are picky eaters. Stone baked pizza strikes the perfect balance between elegance and providing your guests with a style of food they already love.
There's More Than Pepperoni Here
Stone baked pizzas are anything but plain. In addition to the many benefits of stone baking, such as improved crust, texture, and a flavor profile that pops, your hired stone baked oven will be able to rapidly concoct pizzas with just about any topping combination imaginable. This means old favorites for the picky eaters and exciting new options for the adventurous – you've probably never heard of strawberry balsamic and applewood bacon pizza, but it brings the dish to a whole new level.
Stone Baked Pizza is Healthier
Usually the better something tastes the worse it is for you. Fortunately, this isn't the case with stone baked pizza: a thin-crust stone baked pizza can be incredibly delicious, but cut calories by 200 or more compared to the average pizza. Furthermore, your hired stone baked pizza caterer will likely offer several healthy-topping options.
With all of these benefits, it's clear why you should consider serving stone baked pizza at your wedding – you'll love it and your guests will thank you.