Posted

13th January 2016

in News
Selecting the right food for entertaining a large number of guests is often an incomprehensible challenge given the wide variety of dietary preferences today; however, a simple and delicious choice does exist to cater to nearly every palate and restriction. Pizza catering is perhaps the most versatile and palatable choice for any event or party at which you must serve a large group of people who undoubtedly have endless preferences and food opinions.
Unlimited Possibilities
One of the greatest attributes of pizza is that it offers nearly limitless possibilities. You can provide numerous crust options to cater to all dietary restrictions such as gluten-free, thin crust, oven-baked, grilled flat bread and many more. You can offer vegetarian, vegan and meat-based ingredient alternatives to suit the religious and lifestyle preferences of the group. And, you can present seasonal pizzas with local ingredients.
Easy to Handle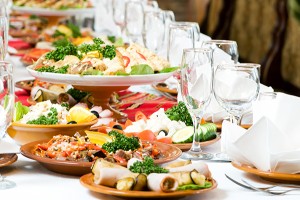 Another positive aspect for featuring pizza is that flatware is not required. Depending upon the level of sophistication of your gathering, you can make an amuse bouche bite-size offering or you can offer a full-size slice. People will be able to walk around without feeling overwhelmed with too many items in their hands. If the pieces are manageable and bite-sized, they can move around more freely.
Preparation
Pizza is also a fantastic selection due to the fact you are able to complete much of the preparation in advance. You can prep all the toppings in advance so that you do not have to waste valuable entertaining time chopping vegetables and grating cheese. You can even par bake crusts before the event to reduce cooking time. Also, you are not restricted to oven space for cooking pizza. You can use grills and the stove top for faster turnaround. If you need a professional catering company then Hot Stones Pizzas specialise in pizzas and are willing to help you cater for your wedding or special event.
Alternatives
A number of great alternatives to pizza also exist. Focus on finger food that can be easily consumed in a few bites. Also, be sure that you are able to complete most of the preparations in advance. A few such possibilities include mini-sandwiches, small empanadas or vegetarian and meat-based satays.
Pizza may be the ideal food to present while entertaining a large group of people due to its versatility to cater to all food preferences and because it is easy to handle. Pizza is a food that is adored by nearly everyone and is sure to make any gathering a great success.